What is FIV?
Feline Immunodeficiency Virus (FIV) has been associated with cats for many years, although it was only labeled as such as recently as 1986. The virus depletes the number of white blood cells, which eventually makes the cat less able to fight off infection. However, because it is such a slow acting virus many FIV positive cats can enjoy a normal lifespan with no apparent health problems resulting from the virus. FIV is species specific. It can only be transmitted from cat to cat, not to humans or other animals.
FIV belongs to the same group as Human Immunodeficiency Virus (HIV) and for this reason has received much greater attention than it would otherwise have done. The mere mention of FIV, and the fact that it is sometimes inaccurately known as 'Feline Aids', strikes unnecessary terror into the heart of many cat-owners, so it is worth taking time to consider the facts dispassionately. The viral strains used in laboratories on experimental cats were very virulent, and much of the previously published information is based on this. However, FIV strains in cats living normal lives tend to be much more benign, and may never cause disease.
FIV is species specific. It can only be transmitted from cat to cat, not to humans or other animals.
How does a cat catch the virus?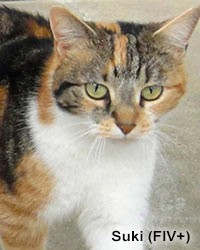 The virus is present in the blood and saliva of infected cats. But, like HIV, it is a very 'fragile' virus, and cannot survive for long outside the body. It also requires a high dose to establish an infection in another cat. Therefore, it is not easily passed from cat to cat. The main route of infection is through a deep bite, when the virus in the saliva of an infected cat is injected directly into the blood stream of the cat it bites. Conversely, a cat which bites an infected cat, is at less risk of being infected, as the virus would not be injected straight into the blood stream, although there is still an element of risk.
Transmission between cats in a group who do not fight is unlikely as the virus can only survive a very brief time outside a cat's body, and it cannot be transmitted indirectly, such as on food, feeding equipment, clothes, shoes, hands etc. (unlike the situation with feline leukaemia). Recent research suggests the likelihood of cats passing on FIV to others in the same household is as low as 1-2%.
What is their Life Expectancy?
A cat who contracts FIV will usually still have a strong immune system for several years after infection, it is only over time, that the effects of the virus may start to show, and even then, most infections can be treated with the appropriate medications. With love and good care however, many FIV+ cats can live normal lifespans. These days, it's not unusual to find FIV+ cats reaching 15 years or more. Knowing what we now do of the prolonged nature of the condition, euthanasia is totally inappropriate and inhumane.
A ten-year FIV Monitoring Project was carried out at Glasgow Veterinary School involving 26 cats and the results indicated that a higher percentage of FIV negative cats died during the period of the study than FIV positive cats, and that FIV infection did not affect the cats' life expectancy. Dr Diane D. Addie (Lecturer in Veterinary Virology, University of Glasgow) said "at least 3 studies in FIV positive cats have shown a life span equal to uninfected cats." A fourteen year study by Maureen Hutchison B.Sc, BVMS, MRCVS (veterinary adviser to the Cat Action Trust) found that FIV-positive cats are more likely to die by being killed in road accidents or to be alive and well into their twilight years than they are to die from any FIV related condition.
So Why the Unfounded Fears about FIV?
FIV in the stray cat population has certainly fueled much of the unfounded fear surrounding the virus. It is mainly un-neutered toms, fighting over food, females or territory, who pick up and spread the virus. The stray cat has no-one to look after them, and their lifestyle means they are more likely to pick up other infections, which without treatment can escalate. When one of these gets captured and taken to a vet, suffering from any number of secondary infections, it is often too late. It is the nature of a vet's work, that they will see many more ill cats than healthy ones, when in fact, there are very many more healthy FIV cats than ill ones - they just don't need to see the vet. Indeed, many pet cats will already be FIV positive, but their owners are unaware of it due to the cat being perfectly healthy!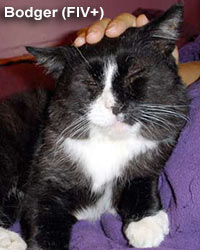 Adopting an FIV positive cat
A healthy FIV positive cat can live for many years, and indeed can often outlive non-infected cats, but please be aware that this is not always the case. Due to their impaired immune system, the cat may succumb to illness earlier, and not reach their normal life expectancy. FIV cats will need prompt veterinary assistance for even minor symptoms. With good care however, many FIV+ cats can live normal lifespans. These days, it's not unusual to find FIV+ cats living 15 years or more.
One study showed that FIV+ cats are far more likely to lose their lives through euthanasia, because no-one was willing to offer them a home, than from any effects of the virus.
Can FIV-positives and FIV-negatives live together?
The most recent research carried out at Glasgow University's Companion Animal Diagnostics indicates that the chances of FIV being passed from one cat to another in the same household is approx 1-2%. This means that if you have 100 cats in a house with 1 FIV positive cat, only 1 or 2 could be expected to become infected. Even when FIV was passed on, as in the Glasgow survey, none of the cats actually died of it. In another survey a few years ago FIV was not passed from cat to cat in the same household at all.
The Celia Hammond Animal Trust have been conducting a long-term study at their sanctuary since the late 1990's, where FIV-positive and FIV-negative cats live happily together, grooming each other and sharing food bowls and litter trays. Regular blood tests for the virus are carried out, and to date no cases of transmission have yet been found. Cats are far more at risk of being bitten by an unknown feral or stray FIV positive cat than by a friendly, neutered, FIV positive cat living as part of the family.
There seems no reason, therefore, not to have FIV positive and negative cats in the same household, provided they are not fighters. If two cats in one household fight, they should be kept apart, given behavioural therapy or one re-homed, regardless of their FIV status. So, this is obviously a decision to be taken on a case by case basis, depending on the natures of the cats involved.
Cats are far more at risk of being bitten by an unknown feral or stray FIV positive cat than by a friendly, neutered, FIV positive cat living as part of the family.
Caring for your FIV+ cat
Good care and lots of love can help your FIV+ cat to enjoy a long life. Love is a powerful immune system enhancer - so cherish your FIV+ cat! Whilst healthy, their regular annual vaccinations should be kept up to date, but do check with your vet about vaccinating if the cat is suffering symptoms. A good diet will help, including vitamin supplements such as buffered vitamin C (sodium ascorbate) and vitamin E, which builds immune system strength.
At any sign of illness, take your cat to the vet, as early treatment can prevent many problems. Antibiotics can control infections, and FIV+ cats who reach a chronic stage may rely on antibiotics more frequently.
Love is a Powerful Immune System Enhancer - so Cherish your FIV+ Cat!